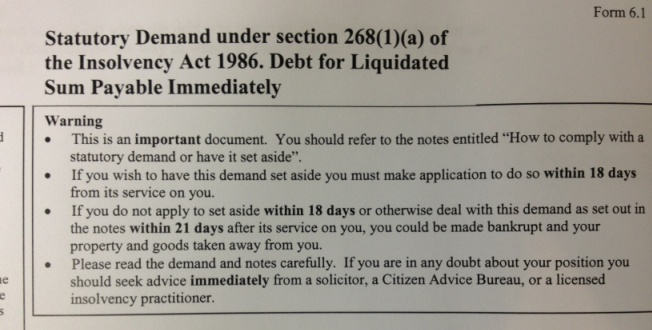 What is a statutory demand?
A statutory demand is a document usually served on an individual and sometimes served on a company by a creditor asking for payment of a sum of money.
What does a statutory demand for payment have to do with bankruptcy and insolvency proceedings?
In all insolvency proceedings, the creditor must be able to demonstrate that the person being bankrupted or the company being wound up is unable to pay, or as lawyers call it, insolvent. Statutory demands are used to demonstrate the insolvent status of the person or company.
The demand must be served on an individual prior to issue of a bankruptcy petition to demonstrate insolvency, and can be served on a company to demonstrate insolvency.  Once served the individual (or company)  will have 21 days to pay the sum demanded. If the sum is not paid within the time specified in the demand, then the creditor can use the failure to pay as a basis for a bankruptcy or winding up petition.
In the case of an individual, they can apply to the court, up to 18 days after service upon them of such a demand, to set it aside.
How can you set aside a statutory demand for payment?
You can usually apply as an individual upon the following bases:
The amount stated on the statutory demand is disputed.
The person issuing the statutory demand also owes money. This is called a counterclaim.
The person issuing the statutory demand is holding security that equals or exceeds the amount owing.
The demand was issued in error.
The amount owing is less than £5000.
Execution has been stayed on a judgement debt.
The debtor is complying with an instalment order. This would mean the debt is not actually owed as it is being paid back.
The creditor failed to comply with the rules and prejudiced the debtor in the process.
For specific advice on effective service of statutory demands or on setting them aside please contact our bankruptcy and insolvency team.